.
Zoë Kessler: I Want to Show the Complexity of Children in Social Care
Zoë Kessler, Professor at the School of Social Work at Salem State University (USA), is working in the Department of Welfare and Social Work at Rīga Stradiņš University (RSU) in the spring semester of 2023. She is also participating in the Society. Health. Welfare conference during RSU Research Week on 30 March.
What is it you're doing at RSU?
Right now I'm doing two Fulbright studies. One is an analysis of the policy change happening in Latvia, meaning the deinstitutionalisation process to close orphanages. My other study is the Photo Voice project.
How did your collaboration with RSU start?
The reason I started my PhD work was because I was inspired by a professor at RSU, Dr Ilze Trapenciere. She is now a close colleague and friend. When I was looking to do a literature review about the social care system about 11 or 12 years ago, I couldn't find anything. This was also because I was obviously looking in English, but I couldn't locate anything that had been published that might inform the rest of the world about the subject. The only articles I found were Ilze's. We eventually met up and that's how the idea for my doctoral thesis took shape.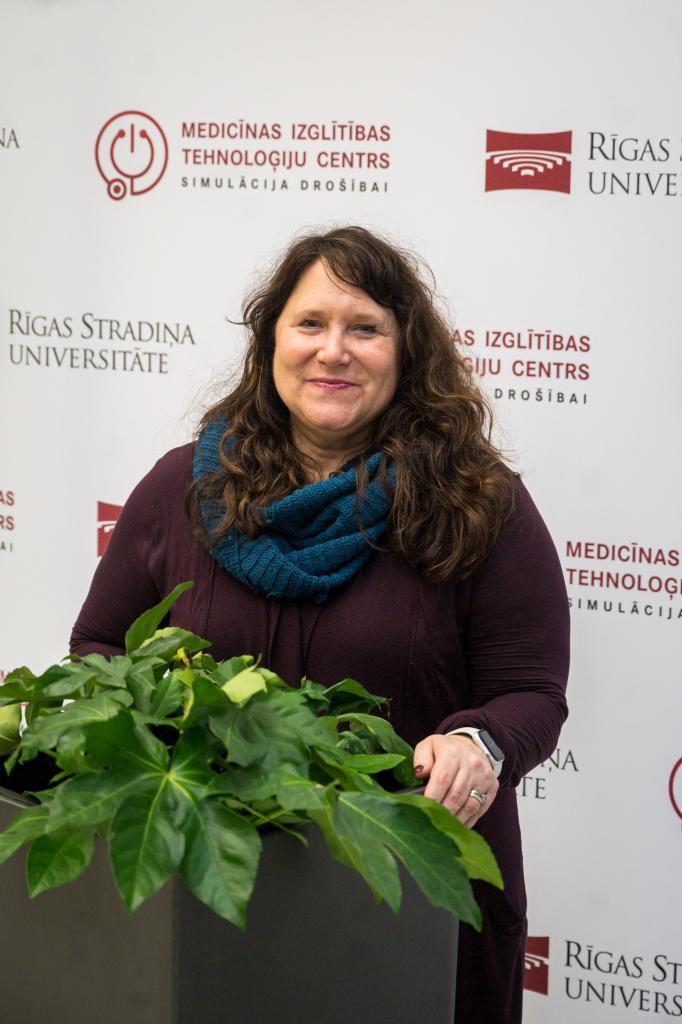 You will be giving a keynote at Research week too. Can you tell me what this will be about?
My keynote is about my past doctoral research as well as maybe weave in some of what I'm doing now. I'm going to be speaking about young people who grew up in social care in Latvia.
Tell me more about your PhD research.
There's inductive or deductive research. Deductive research is where you have a hypothesis that you want to prove or disprove. Inductive research is where you want to explore a certain topic. Mine is inductive. I had research questions, but I wasn't trying to prove, or disprove them: What is the reason for kids to go into an orphanage in Latvia? How did they get there? What is their life like when they get there? What is their life and trajectory like when they leave? I wanted to talk to the kids and ended up with around 20 participants. I did these mini case studies and then I used theories to look at them.
One theory was about resistance, or resilience. The idea of resilience is often linked to action, so acts of resilience can be looked at under a theory of resistance. I looked at everyday resistance. There's big resistance, which can be political, like demonstrating down at the freedom monument about the war.
What I was looking for was everyday resistance, which includes little things that you might do that nobody realises, but that make a difference. Acts that make it so that you feel like you can survive.
Can you give me examples?
The aunt of one of the young women that I interviewed had taken guardianship of her and her sister. It was a very abusive situation. The aunt didn't speak English, whereas the girls knew some English from Youtube. They used to call their aunt a "dirty cow" in English and this made them feel like they had some strength. It essentially meant "I hate you", but it was a way to get back at her and keep them going. Eventually they got away from the aunt and got to the orphanage. The young woman remembers this as a moment where she got some power back.
Another girl told me about her situation. They were very, very poor and the parents were very abusive and would neglect her and her sister. It's a very sad story. The two sisters were starving, so they would go around their neighbourhood in Latvia and collect the cans that people left out for stray cats and eat them. On the one hand it's really gross, but I think it's actually pretty smart. This act kept them alive and kept them going. It was a way to fight back at the fact that their parents weren't feeding them on purpose.
Tell me more about the Photo Voice project.
I'm collecting photographs from young people, aged 18 to 35, who either grew up in an orphanage or in foster care in Latvia. There's a lot of stigma about these young people and it can be very difficult for them to get jobs, housing, or to be accepted in different social circles once people know their background. The aim of the project is to educate and inform people that these kids are very multifaceted. The hope is to put up an exhibition of these before I leave.
The author Chimamanda Ngozi Adichie talks about the danger of a single story. This idea resonates with me and I've thought about this concept in the context of social orphans in Latvia.
What first ignited this idea for you?
My husband and I adopted an 11-year old from an orphanage in Latvia about 10 years ago. We didn't go to Latvia with the idea to adopt. We have four children of her own and we weren't really looking, but when I was there talking to the social workers and the staff, I asked what happens to these kids when they leave. What I heard over and over and over again was some form of 'they end up being a drain on society'. What they meant was that the children end up back in the legal system in some way or another. Prostitution was given as one of her options, which was really quite shocking. This was one of the reasons we adopted her. My daughter is 21 now and in university back in America.
But anyway, this is part of that single story idea. What I was being told isn't true for everyone, but there are obviously some cases where this is true. I'll occasionally see some people I know down by the train station begging, and there are a couple of girls that I've interviewed that have had to go into prostitution. There's a couple of boys that are in and out of the criminal justice system. But I also know a whole bunch of them who are living really fulfilled, happy, loving lives. I wanted to show that their lives are multifaceted.
There aren't separate camps of who's successful and who's not, I just want to highlight the complexity.
What is your personal connection to Latvia?
It came about accidentally. When my older daughter was in high school, she had to do a social service assignment. As part of that we found a site online where you could host an orphan from Latvia or Ukraine for a month. This is something that's no longer allowed, actually, because adoptions out of the country are no longer permitted, so these hosting companies can't work in the same way anymore. I specifically said to the hosting company that I did not want to set this child up with any expectations, so it had to be a child that was not adoptable.. She ended up coming with a group of about 25 other kids from Latvia. They had a chaperone with them from the orphanage who stayed close by and would speak to the kids on a very regular basis to make sure everything was fine. We hosted her for a month and we all sort of fell in love, honestly. Saying goodbye in January was really awful, but again she wasn't free to be adopted in the system, so that was never a conversation.
After that I couldn't really sleep because I kept thinking about her and worrying. I had no understanding of Latvia, or orphanages here or anything. I asked the orphanage and they said I could visit with her when I was here, so I came for a week in March and spent most of my time with her. I never even saw a museum! I was doing volunteer work with the orphanage, getting to know the social workers, sitting around with the kids having tea and things like that. After a few days I called my husband and I explained what I had been told about what her trajectory would be, and said that I didn't feel like we could just leave her here. It turned out that most of the children were adoptable in a way, they were just not separated from their parents completely. She had not seen her mother in a couple of years. Nobody had visited her.
What I really loved about Latvia, is that because it's a Hague Convention country they talk to the kids and get their feedback throughout the adoption process. If a child does not want to be adopted, they can stop the process at any point. 
We spoke to her and she wanted to be adopted. I think it's very young to have those conversations, but that's just sort of what you have to do. There's a lot of choice and agency for the kids, which was interesting.
What's your background?
I was doing a couple of things before. I was doing adjunct teaching at a couple of universities in Boston, teaching social work courses, and I was working as a clinical social worker. I was also working in a community mental health centre and in addition to that I was also working with an agency in Boston that helps young people get off the street.
Tell me more about your work with policy analysis.
There is a policy about closing all the orphanages in Latvia in the near future. The date has been changed a little because of the pandemic and the war, but it's in process. The whole idea behind it is that every child deserves a family, which I absolutely believe in. What's tricky and complicated, however, is that when I did my doctoral research, I cited 19 case studies. What came out of that, was that only one of them had a positive experience with their foster family. In the orphanage, on the other hand, while they may not have had a single family, there are regulations in place. People complain about orphanages because they are institutions, but in a way the regulations were keeping the children safe. Everybody went to school and to the dentist, everyone got physical check ups and vaccinations and all these things they needed. They had psychological services available and any type of service they could possibly need. The state took really good care of them, in a way. I'm not critical of the Latvian system at all, and things are much worse in the US, but it gets complicated when you put a child in a foster family. The foster family may not have all of those services available to them, or the family may not know enough to give them the services. Social workers go to visit those families once a year, so it's tricky. Again, it's not that I believe in institutions, it's just that there is no easy fix.
I've been interviewing people at a policy maker level. I'm looking at a cohort of service providers, who are people who provide services for the kids, and then interviewing anybody over 18 who has been in the system to ask about their thoughts. I want to know what their experience is, and how they feel about the idea of orphanages closing.
What do you hope happens with your research?
I'd love for my findings to have an effect. I'd love to pass them on. But I'm very aware of being an outsider coming into this country. I love it here, but it's not my country, and I would never want it to come across like I'm saying that I know what should be done more than someone from here.
How are people responding to you? Are they open or defensive?
I haven't met anybody who's not been really wonderful. One of the reasons I love Latvia is that I've never been poorly treated by anybody. RSU is a wonderful host institution.
In broad strokes, what are the similarities and differences between the US and Latvia, and what could each learn from the other?
I'm not an expert on the system in the US, as it's not been my area of research, but they both definitely have their issues.
The foster care system in the US has a lot of deeply ingrained issues. I think that Latvia has an opportunity to do it better. Social work is a relatively new field and I think there's a lot that Latvia could do really well.
How do you keep your own peace of mind when you hear all these stories? How do you take care of yourself?
Sometimes I worry about them, or think about the kids later as young people, but I guess realising that these terrible stories don't define them helps. This person who is sitting here telling me that story, even though their situation might be horrible, or has been horrible, they are still sitting there, having tea with me and laughing a little bit. We're talking, maybe crying, and we're laughing, you know? I mean it's like that idea that they are still a whole person. It's not just this one experience that makes them who they are. 
I do my own self-care as well, though. I do lots of yoga and things like that to stay okay. I check in on certain kids sometimes, like I'll text them and ask how they're doing. When I come back to Latvia, I go on a lot of lunches and coffees with people that I knew from before. I'm not sure how scientific that is but I think it's important to be human too. I think it's a really important part of social work.